Payment
1.What is Buy-world Payment Escrow Service

Buy-world Escrow Service is a safety payment gateway for two parties involved in a given transaction. The pending fund only release when all of the terms of an transaction agreement are met as overseen by Buy-world.
All transaction and payment status are traceable on Buy-World.com.
2.what is the process of Escrow service?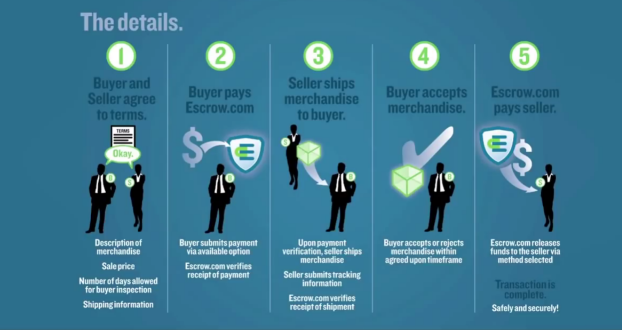 Other Payment Option:

1.Which Payment methods do you accept:

We accept a variety of payment methods.



ONLINE OPTION:





Credit/Debit Cards:
Paypal:

Wire Transfers:
OFFLINE OPTION:



Offline option is depend on seller's accepted payment method.


2.How do I pay by Credit/Debit Card?

We currently accept a variety of credit/debit cards including Visa, MasterCard, and American Express. It's easy to use a credit/debit card to pay for your Mr-world purchase, when you select Credit Card as the payment method, you will be taken to a site where you can pay your order.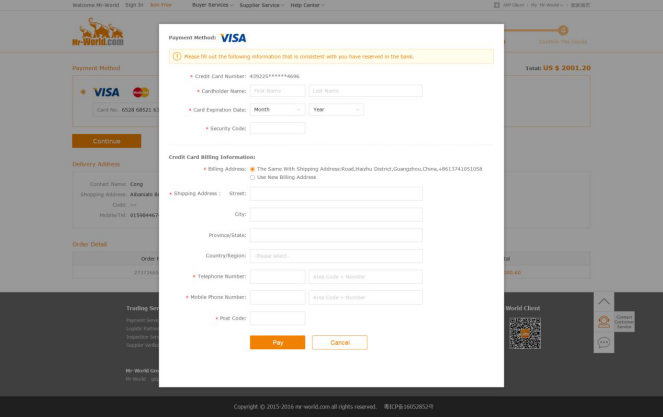 3.How do I pay by Wire Transfer (T/T) ?

We accept wire transfer indifferent currency. You can make a order then go to your bank to complete your order payment. The beneficiary details as below. Once you've completed the payment, sign into your account and click on "My Orders", upload the bank receipt, and click "Save" button to finish the payment.
4.How do I pay by Paypal?

Under Payment Methods, please select PayPal and then click to continue to checkout. You will then proceed to PayPal where you can log into your PayPal account or create one by following the instructions provided by PayPal. Once you've logged in, you can complete your order payment.